This page may contain affiliate links. As an Amazon Affiliate, I earn on qualifying purchases. Please see our disclaimer for more information.
I am very excited to be a Host for Simple Lives Thursday! Each week I enjoy reading through all of the wonderful tips, ideas and recipes for simple living.  If you are new here, Welcome! And enjoy the Simple Lives Thursday blog hop.
This hop is dedicated to simple living. "Consume less, produce more. " So many topics fit: Gardening, raising animals, cooking from scratch, real food, natural cleaners, sewing, recycling, thrifting, a mindset of simplicity, saving a buck… When you link at this blog your link shows up on each hosts blog!
Be sure to link back to one of us (see guideline #2 below), not providing a link back will prevent us from choosing you as a featured blog.  I will be sharing featured posts (along with their photo) on my facebook page.
This blog hop is hosted by:
Featured Posts from Last Week's Submissions
We really enjoy reading your posts each week! Featured post bloggers, please grab the badge above and display it on your site! Link it to one of the host blogs' posts for the specific week that you were featured.
Here are our picks from last week's submissions. Thanks to all who participated!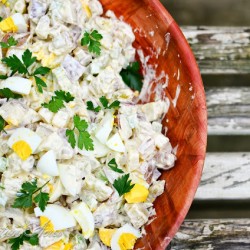 1. All American Potato Salad by Reformation Acres. "… as it turns out, potato salad doesn't have to be a big yellow, indistinguishable pile of slop on your plate."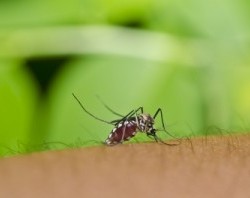 2. Make Your Own Insect Repellent by Nature Had It First. "There are natural alternatives that you can feel good about using. You may need to apply them a little more often but that is a small price to pay to enjoy the outdoors without the chemicals."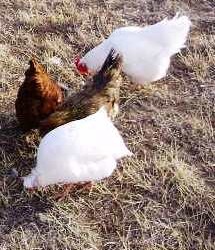 3. Feeding Animals by Semi Off Grid. "Free ranging not only helps our feed bill but also lets our chickens be chickens. "
Share Your Simple Lives Thursday Post
Bloggers, make a "Simple Lives Thursday" post on your own blog, then come back here to add your post to the linky box below the featured posts. If you don't have a picture, feel free to download the Simple Lives Thursday banner (at top of post) and upload it using the script's prompts (it is easy). Your post will appear on all host blogs!
Non-bloggers, feel free to add a comment here with any ideas or thoughts about simple living.
These are three simple guidelines for participation:
1. If linking real, traditional and simple recipes, please make sure all ingredients used are whole — such as whole grains, vegetables, legumes, meats, even sugar. In order to keep the integrity of "nourishing" food, we will delete any recipes that utilize processed, boxed foods. We are definitely not going to be ingredient policemen! But, please note that this is a hop hosted by advocates of the real, local and sustainable food movements.
2. Please link your posts back to one of the hosting blogs. This is a common blog hop courtesy. This link helps build the Simple Lives Thursday community by sending your readers to all of the other participants' posts. We all end up sharing and learning from each other.
3. No giveaway or otherwise primarily advertising oriented posts. Keep your topics to fit our simple living theme of "consume less, produce more." We will delete posts that don't fit.
What will you share this week? We all look forward to your submissions!